EDI FAQs
What is EDI? How can I use EDI in my company? What documents can I exchange? You ask. We answer.
Learn all about EDI
EDI (Electronic Data Interchange) is a ubiquitous technology in all sectors and countries of the business world. No matter the company's size, small, medium, large or multinational, all use EDI in their business transactions, given its versatility in solutions. Your company may already use EDI to manage transactions with your customers or suppliers (orders, invoices ... etc.). In our Learning Center, you will have the opportunity to go deeper and learn all the details about how EDI technology works.
What documents can I exchange through EDI?
Virtually all transactions that you would typically perform with any business partner by conventional means can be conducted through EDI. Orders, shipping notices, invoices, inventories, etc., are the most commonly exchanged ones.
Who can I exchange EDI business documents with?
EDI is used in many industries. This, together with the wide variety of existing structured messages, makes it possible to use the technology with multiple business partners. So much so that nowadays it is common to exchange electronic information with distributors, suppliers, logistics operators, customs, ports and airports, public administrations ...
In which business sectors are EDI documents exchanged?
Electronic Data Interchange (EDI) has a high penetration in the retail sector, as it is a widely used system for the exchange of commercial transactions between distributors and suppliers. Many business sectors have progressively adopted these technologies, and EDI is now present in healthcare, automotive, tourism, transportation, etc.
Can I exchange documents through EDI with my foreign suppliers or customers?
EDI is based on the exchange of messages with data structures shared by both sender and receiver. These structures are generated from standards such as EDIFACT, X12, XML, or UBL, which are maintained and developed by supranational organizations that guarantee their validity and universality. The EDI system guarantees a fluid exchange of any commercial document with your partners regardless of nationality or business sector.
Are there ways of integrating my business partners quickly and easily?
EDICOM's Advanced Management Services allow you to outsource the necessary tasks to manage the customer's solution and the steps required to obtain a rapid integration of the largest possible number of partners.
EDICOM's Outsourcing Service gives you access to the best hardware and software resources to implement your EDI and e-Invoicing project. In addition, this service provides you with a platform administrator, who will be in charge of parameterization, maintenance and software management, so you will not have to allocate human resources to these tasks or modify your management processes to integrate advanced B2B communication models.
EDICOM's Onboarding Service for the incorporation of business partners extends the concept of outsourcing and involves implementing a project to integrate your suppliers or customers. EDICOM thus assumes an active role in this regard, developing a series of actions to connect them to your communications platform and rapidly increase the number of transactions carried out electronically with all your business partners.
EDICOM's IPM (Integral Partner Management) is configured as a service that provides you with a management team that will interact with all your customers and suppliers. IPM will manage their maintenance tasks in areas such as incident resolution, errors, new communication protocol configuration, new message integration tests, etc., as if it were your EDI administrator group and allowing you to forget about handling the management of your communications platform completely.
Does the implementation of an EDI system involve modifications to my internal IT system or ERP?
There are solutions accessible from a web-based environment that allow the sending and receiving of EDI messages. This type of solution generates the messages sent by manually typing the data that compose them using web forms.
For situations where the document volume is high, it is convenient to integrate EDI transactions with ERP systems. In these cases, the construction, sending, and registration of incoming documents is automated to integrate with the management information system. Additionally, specific systems adaptations are required to enable the data extraction and import to form the processed documents.
Once I have implemented an EDI solution, can I expand its use to different projects?
Yes. Factors such as efficiency and cost savings have favored the expansion of EDI applications from B2G to B2B and B2C environments. Beyond compliance, EDI has proven to be a key tool in many industries, such as healthcare, retail, automotive, and logistics, that communicate with their business partners and have seen their management processes become optimized.
One of the significant advantages of EDI technology is its scalability. An EDI project can be implemented progressively according to the needs of the company. Therefore, it is essential to establish objectives and priorities so that EDI fits into your business plan. Although EDI is based on what is most important, companies must still meet other objectives that drive competitiveness.
Do I need to allocate company resources to manage and maintain EDI?
Depending on the transaction volume and business partners to be managed, it may be necessary to allocate a certain amount of resources to manage and maintain your EDI applications. However, there are services for outsourcing these tasks that exempt you from the management associated with the maintenance of your EDI platform.
With our Outsourcing, Onboarding, or IPM (Integral Partner Management) services, you can delegate the administration and management of your EDI solution entirely to EDICOM without having to allocate any resources from your own company.
Do I have to invest in new servers and databases to host my EDI system?
No, you don't. The applications and systems required for an EDI solution can operate perfectly well in service mode. The hardware, software, and database resources are offered by EDICOM, which assumes the installation, monitoring, and administration of these from the EDICOM B2B Cloud Platform. It is a technological environment accessible through web interfaces that are transparent to the user and fully operational as if they were in your own company.
EDI Academy: A useful guide to learn the essential aspects of EDI technology
We present our three e-Books with content tailored to professionals in the technology sector who want to acquire a foundation of EDI practical knowledge.
EDI Academy Vol. I
The first volume of EDI Academy shows the most didactic and informative part of EDI technology.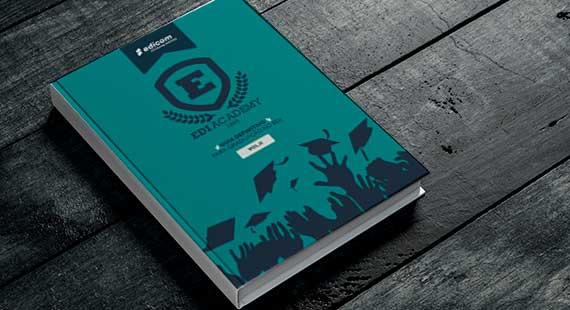 EDI Academy Vol. II
This volume presents the features and advantages of the key components of implementing an EDI platform.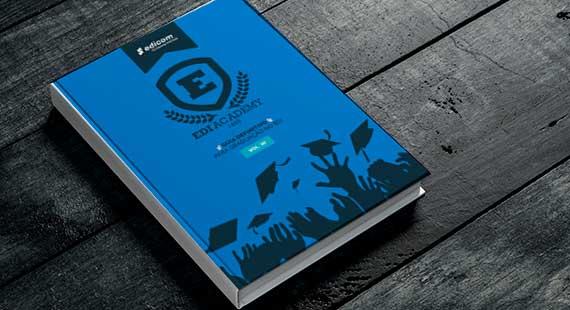 EDI Academy Vol. III
Volume III discusses the different types of solutions that allow you to take advantage of EDI technology to connect with any business partner.
Stay up to date by subscribing to our monthly newsletter
The form has been sent successfully.
Something went wrong.
Thank you!
There was a connection error. Please try again later.
Subscribe to our newsletter
Sending
Please wait. This may take several seconds.
The form has been sent successfully.