EDI Client Web Portal
A solution for the integration of clients without Electronic Data Interchange technologies.
Integrate 100% of your clients through EDI
The EDI client portal facilitates the integration of B2B clients without an EDI solution, as well as end clients or consumers in a B2C context.
It establishes one-way flows for sending key transactions, such as invoices, or more complex models for sending purchase orders and other documents.
One-Direction EDI Portal
"No EDI" Client Identification
The supplier identifies the "No EDI" clients in its ERP that it wishes to integrate through the portal.
Message Integration
Invoices generated from the ERP (or any document sent to the client) are published in the portal.
Document Delivery
The EDI portal recognizes the invoice recipient and sends an e-mail notifying them that the document is available via a link to the invoice.
Client Access
The client accesses the portal to consult, download or print their invoices.
Bi-Directional EDI Portal
Publishing Key Data
The supplier uses EDI messaging services to publish the catalog of products and prices it typically sells to each client, usually with a PRICAT message.
Sending Purchase Orders
Each client has an individualized environment in the portal.
The client can see the products they usually buy from the supplier in the portal.
Purchase Order Integration
Orders placed through the portal are integrated into the supplier's ERP and are ready for processing and shipment to the client.
Issuing and Sending Invoices
After processing the order and generating the invoice associated with the purchase order in the supplier's ERP, the invoice is published in each client's portal environment, notifying them when it is available to view or download.
Business@Mail, the solution for sending 100% of your invoices electronically
Business@Mail is EDICOM's solution for sending EDI messages to all non-EDI integrated customers.
This tool is specifically designed to automate the sending of any document. It is especially ideal for invoices, with all the legal and security requirements defined in each market.
Do you want to discover how to optimize your EDI project with portals?
EDICOM has specific solutions to integrate your suppliers without an EDI solution. This makes it possible to extend the capabilities of your EDI B2B platform to 100% of your partners, regardless of whether they have an Electronic Data Interchange solution.
In addition to this, EDICOM has solutions to easily incorporate new partners to its platform through the certification portals. You can control the incorporation status of each partner from these portals.
EDI Academy e-Books
A useful guide to learn the most important things about EDI. This content is distributed in 3 e-Books and is for professionals in the technology sector who want to get started with EDI (Electronic Data Interchange) systems.
EDI ACADEMY VOL. I
This first e-Book focuses on the didactic and informative part of EDI.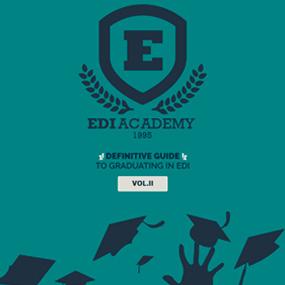 EDI ACADEMY VOL. II
We present the features and advantages of two key components for the implementation of an electronic data transfer platform.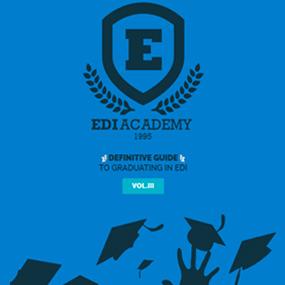 EDI ACADEMY VOL. III
We discuss the different types of solutions that allow you to take advantage of EDI technology to connect with any trading partner.
The latest news about EDI technology
EDICOM's EDI platform integrates ERPs and WMS systems with Amazon via EDI (EDIFACT or XML) or Amazons SP API
Collaborative technology and methodology for the agile management of large EDI projects with international scope
The electronic exchange of data between partners requires the GLN, a 13-digit company-specific identifier
Send us your contact details and we'll get back to you right away.
Contact one of our specialists for answers to all of your questions about our data integration solutions.
Let's talk!
The form has been sent successfully.
Select a valid prefix
Please fill in all required fields.