Electronic Invoicing
What Countries Exchange Electronic Invoices through Peppol?
Peppol was originally designed by the European Union to facilitate cross-border commerce between companies and EU public entities, but thanks to its interoperability it has become such a success it is being used outside the EU.
Peppol (Pan European Public Procurement Online) is a series of directives to promote the digitalization of transactions in B2G and B2B sectors.
The Peppol system enables companies to send and receive orders, electronic invoices, waybills, etc., regardless of what country they are in.
Companies that use this system also benefit from a unified set of standards for the exchange of data.
Peppol expands around the world
Peppol was originally only available in European countries but rapidly expanded out of Europe.
The Peppol network is praised for its efficiency and is recommended for the exchange of electronic invoices with Public Entities.
New companies are constantly incorporating themselves into the network to send and receive electronic invoices as well as other documents.
To register in OpenPeppol public and private companies must adopt common standards. Which enables them to automate their processes and improve their connectivity, in and out of Europe.
What countries Exchange electronic invoices through Peppol?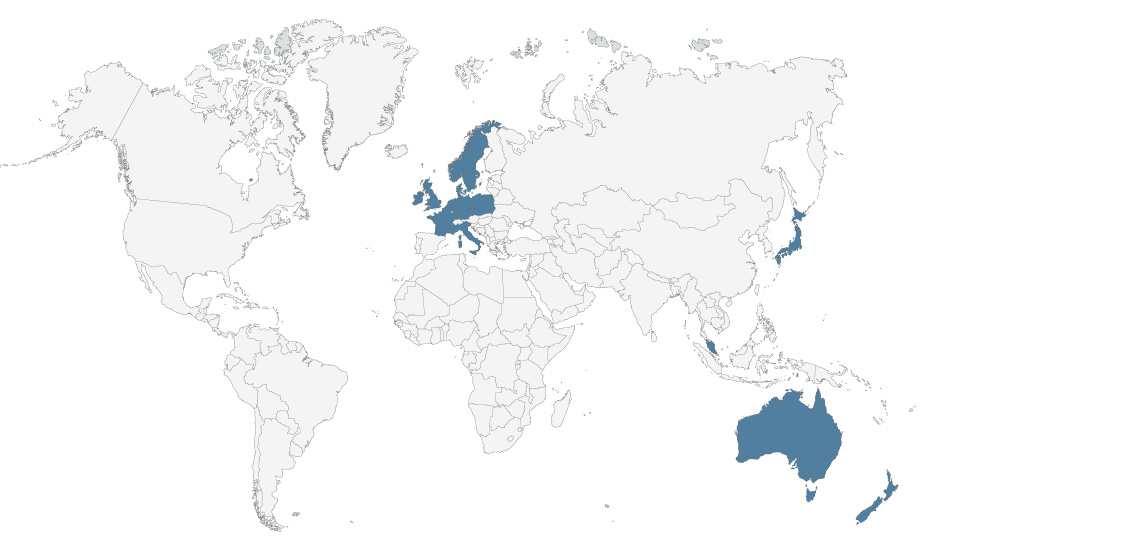 Currently, there are OpenPeppol members in 38 countries (31 in Europe, Australia, Canada, Japan, Mexico, New Zealand, Singapore, and the U.S.)
Thanks to Peppol, European companies can easily exchange documents across borders. It is a unique network for the entire continent which shares documents in a standardized format.
U.K, Germany, France, Spain, Sweden, Italy, Poland, Norway, Netherlands, Denmark, Finland, Belgium, Austria, Iceland, Greece, Portugal are only some of the European countries that are part of the Peppol network.
United Kingdom
The electronic exchange of documents between the British health system and its suppliers must be performed in a standardized manner through access points connected to the Peppol network.
France
France is implementing the electronic invoice, which will be available through its own Chorus Pro portal, it will work with two systems, one of them being Peppol.
Denmark
Scandinavian countries are at the leading edge of the electronic invoice in Europe.
Denmark, Sweden, Finland, and Norway are pioneers of the electronic invoice with their public institutions, even before any European directives.
Their electronic invoicing system is linked to Peppol and enables foreign suppliers to exchange documents with Danish public entities through Peppol standards.
Norway
Norwegian public entities require electronic invoices from their suppliers since July 2012, even though they have their system they follow Peppol specifications.
Sweden
Government entities have been connecting to the Peppol network to promote public contracting since November 2014. It was originally voluntary but has become mandatory since 2018.
Ireland
The exchange of electronic invoices with public entities in Ireland must be done through the Peppol network since there is no other platform available in the country.
The Netherlands
The Netherlands has made it mandatory for all public sector suppliers to send invoices in Peppol format since January 2017.
Austria
The Austrian government allows the reception of documents through a Peppol Access point.
Italy
Some regions of Italy have implemented the Peppol system for transactions related to public contracting.
Belgium
Belgium's platform is integrated with the Peppol network for electronic invoices.
Singapore
This is the first country outside of Europe to join the Peppol network. Singapore chose the Peppol network to implement the electronic invoice nationally. In January 2019 it activated the electronic invoice, access points, and certified service providers began to supply connectivity solutions and electronic invoicing. The Singaporean government was looking to open its doors t a global market, to improve competition and advance B2B digitalization.
Australia and New Zealand
In February 2019 Australia and New Zealand announced the adoption of the Peppol framework for the electronic invoice.
Both countries established independent Peppol authorities in October 2019 and are working together to create an unobstructed business environment.
The common focus on the electronic is another step in the digitalization and globalization of both economies.
Japan
EIPA (Electronic Invoicing Promotion Association) has stated that it will analyze the Peppol standard and will create a new Japanese standard for the electronic invoice.
EIPA is asking the government to create a system that educates and promotes the electronic invoice in companies. If successful, they expect to accelerate the process to make it easier for companies to comply with the law.
This association encourages companies to use an electronic invoicing software that uses Peppol by October 2022.
United States of America
The U.S has begun a pilot project inspired by Peppol . The objective of the Business Payment Coalition (BPC) is to promote the use of electronic means in government and business relationships, by standardizing the process used to exchange electronic documents, at a national and international level.
This project's goal is to send and receive electronic invoices between companies (B2B) even though the Peppol network was created to perform transactions with companies, public institutions (B2G), and from Government to citizens (G2C).
Advantages of the Peppol network
The use of common standards will bring huge savings to public and private enterprises. With Peppol it is no longer necessary to have different solutions to adapt to different specifications from different trading partners.
It is possible to communicate and exchange documents with any company or public entity securely through the Peppol network.
Another advantage of this system is that it enables the automation of processes, greatly reducing the workload of users, by simplifying and accelerating commercial and administrative transactions.
Peppol increases the competitiveness of companies in a global market. Countries that use the network can Exchange documents and information with any country, that uses the network.
What role do Access Points play?
To access Peppol it is necessary to do so through an Access Point (AP), meaning that all communications through the network must be conducted from one access point to another. Issuers and recipients must access the network through an AP.
Access points are certified by the OpenPeppol association and use standardized formats, communication protocols, and electronic signature algorithms on the documents.
OpenPeppol is an international association made up of members from the public and private sectors.
This association is in charge of the development and maintenance of the Peppol specifications, basic components, and their services and implementation in all of Europe.
The access points oversee the exchange of files.
This technology enables people to communicate through secure and encrypted messages that can only be seen by the intended recipient.
EDICOM is a Peppol Access Point
EDICOM's purpose is to facilitate data interchange for multinational companies around the world. One of the main ways EDICOM does this is by being a certified Peppol Access Point and transforming documents into the formats and standards required by Peppol and ensuring their secure delivery to the intended recipient.
EDICOM's international electronic invoicing platform guarantees interconnection and interoperability globally, making it possible to exchange invoices according to each country's mandated format.
EDICOM's solution to Connect with the Peppol network is internationally recognized and has clients in all of Europe.
EDICOM is a Peppol Access Point in Spain, Italy, Singapore, Australia, and New Zealand.
Why chose EDICOM as an Access Point?
EDICOM was one of the first certified Peppol Access Points, and its accreditations guarantee secure and reliable interoperability with the platform.
EDICOM's processes are all conducted on private cloud infrastructure, enabling companies to operate at a lower cost and without the need for in-house maintenance.
EDICOM has multiple certifications about information security, guaranteeing data integrity and security.
EDICOM's platform works automatically, increasing productivity and reducing costs.
With EDICOM's solution companies can easily adapt to any legislative or process changes, avoiding errors and compliance risk.
Conclusion: Peppol is an International success
Peppol is the pan-European electronic business document Exchange network.
It was created to facilitate communications between EU countries but has been adopted by other countries because of its effectiveness and efficiency.
Countries like Singapore, Australia, and New Zealand have implemented this network to exchange electronic invoices.
Countries like Japan and the United States have also been inspired by this system and intend to replicate it to standardize the electronic invoice.
EDICOM's Global Electronic Invoicing Platform enables companies to generate invoices in Peppol format and send them through the network through complete integration with our client's ERP. Enabling them to immediately and automatically exchange documents with public institutions, clients, and suppliers.
EDICOM coordinates GOVEIN2019 project (Action No: 2019-EU-IA-0046)

*The contents of this publication belong solely to EDICOM GROUP and do not necessarily reflect the opinion of the European Union.
Do you want to learn more about Electronic Invoicing around the globe?
Our team of international consultants will be in touch within 24 hours to answer any questions you may have about your project.
Contact EDICOM Global